Moray Coastal Cycle Route
This is a signed cycle route from Burghead to Cullen, linking the coastal communities. Explore the dramatic landscapes from rugged cliffs to sweeping shores, sheltered coves to fishertown harbours. Visitors are drawn by the resident bottlenose dolphins and the myriad of birdlife on the cliffs.
---
[zoom zoomin=2]
Accessibility: Suitable for a wide range of users

Suitable for all types of bikes. Some sections are suitable for walking and horse riding.

Terrain: Paved footpaths & roads

Good surfacing through out, combining a mixture of gravel paths, tarmac paths, and public road sections.

Generally level
Fully signed
---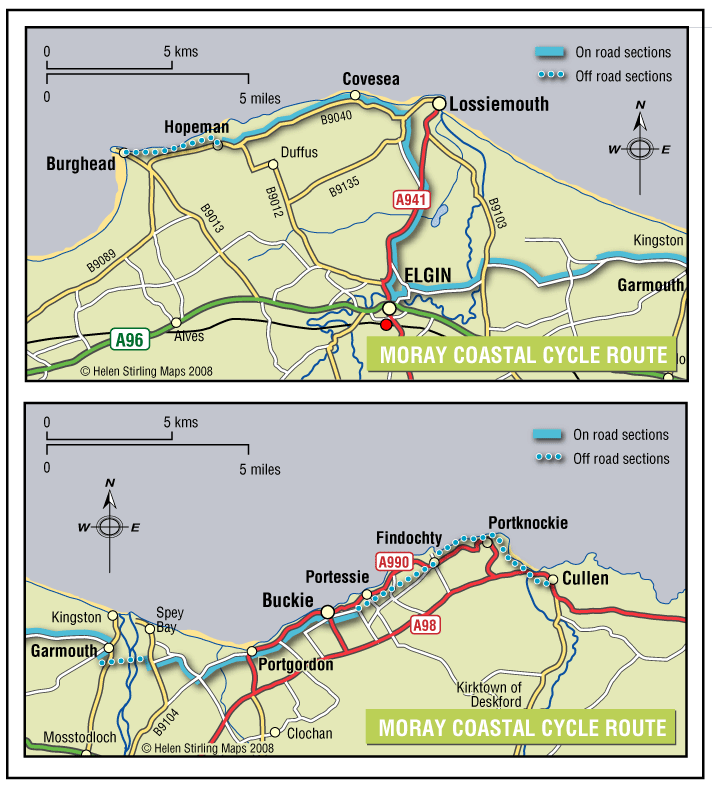 Report a route change

If you have followed this route and noticed any differences please report a route change by sending an email to: 
Send us a GPX track

We would like to offer GPS tracks of all routes on this site.

If you are able to help please create a GPX track of this route (no detours) and send it to us for inclusion.
---
Gallery
Get on you bike and ride the route or why not rest a while and explore the area's history, culture and the world famous whisky trail.
The route links the main towns of Moray's Coast and makes the most of the open views across the Moray Firth, famous for dolphins. Much of the coastline is wild and unspoilt and displays a wide variety of animal and plant life.
Moray's historic sea towns which are all visited by the route are unique in their rich built heritage founded on the fishing industry. Further information on local settlements and their attractions can be found on the information boards along the cycle route.
Look out for the dolphin logo, and the information boards along the route.
When using on-road sections, care to be taken due to the presence of fast moving vehicular traffic. This is particularly so between Hopeman and Lossiemouth.
---
Contact
Moray Council Outdoor Access Manager