This flat, circular walk follows the Rothes Burn as it passes through the Playing Fields and also includes some great views over the open countryside to Ben Aigen. The surfaces are all good and are suitable for wheelchairs and buggies, although care is needed over the footbridges.
---
[zoom zoomin=2]
0.75 miles (1.2 km)
15 minutes
Accessible for all users
Paved footpaths & roads
Generally level

Barriers: No barriers

Take care crossing the footbridges.
---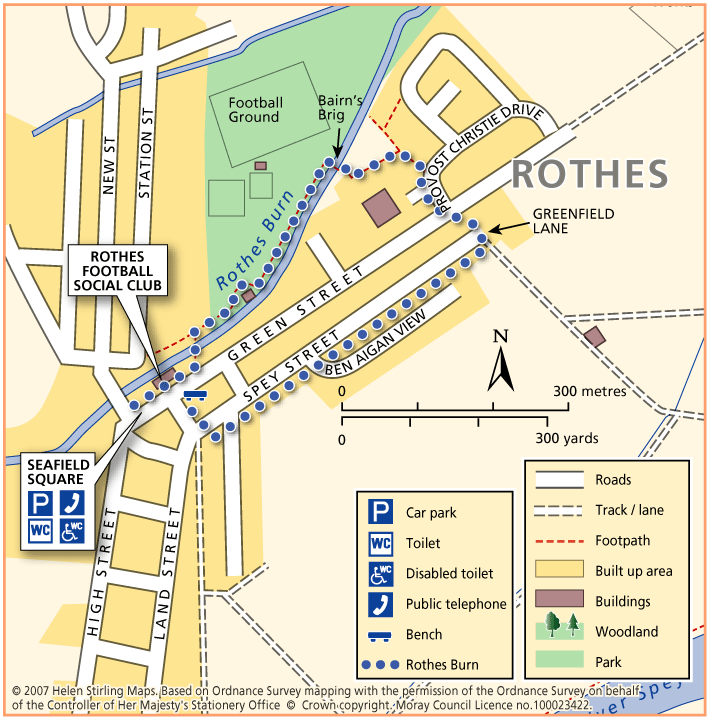 Report a route change

If you have followed this route and noticed any differences please report a route change by sending an email to: 
Send us a GPX track

We would like to offer GPS tracks of all routes on this site.

If you are able to help please create a GPX track of this route (no detours) and send it to us for inclusion.
Start – Seafield Square, Rothes
1. Walk down Green Street, past the Rothes Football Social Club.
2. Take the path to the left by the picket fence and cross the burn, turning right and following the path through the park to the Bairns' Brig.
3. Cross the burn here and follow the path round the back of the Primary School, bearing right along Provost Christie Drive to the junction with Green Street.
4. Cross over and walk down Greenfield Lane in between the farm buildings.
5 Turn right and walk to the end of Spey Street.
6 Turn right and return to the Square.