This flat, circular walk follows the River Spey on it's way from Craigellachie to Boat o' Brig. The path is good but is not suitable for wheelchairs or buggies. The scenery along this walk is very beautiful at any time of year, although it can be a little exposed in places and the paths can be muddy in wet weather.
---
[zoom zoomin=2]
2.25 miles (3.6 km)
40 minutes
Unsuitable for wheelchairs and buggies

Terrain: Varied surfaces

Mainly grass and earth path, with some sections of farm track and tarmac. Paths can be muddy when wet.

Generally level
---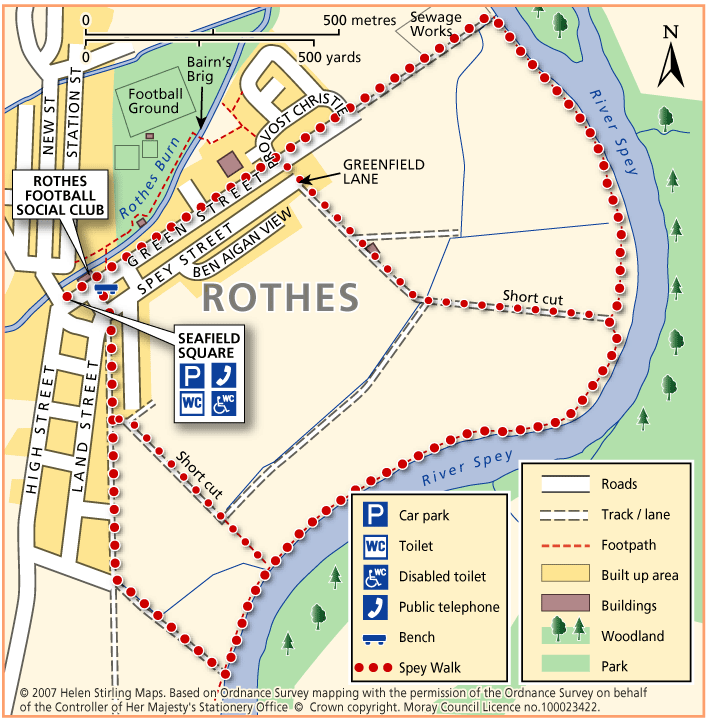 Report a route change

If you have followed this route and noticed any differences please report a route change by sending an email to: 
Send us a GPX track

We would like to offer GPS tracks of all routes on this site.

If you are able to help please create a GPX track of this route (no detours) and send it to us for inclusion.
Start – Seafield Square, Rothes
1. Walk down Green Street to the end and continue along the path past the Sewage Works to the riverbank.
2. Follow the path to the right and continue along the path as it curves round to the right, following the course of the Spey.
3. There are 3 paths off to the right, take the 3rd path and walk along the track until the crossroads, where you turn right.
4. Walk along to the end, joining Land Street. Turn left back to the Square.
There are a few paths off to the right from the footpath along the Spey, which can be taken to shorten the walk