The coastline and settlements of Moray are linked by a waymarked coastal trail of approximately 50 miles from Findhorn to Cullen and all the places between. The route can be extended from Findhorn to Forres along a section of cycle route.
---
[zoom zoomin=2]
50 miles (80 km)
24 hour(s)
Accessibility: Suitable for a wide range of users

Many sections of the route can be used for cycling and horseriding in addition to walking. In wilder locations the path can be steep and rough in places, which would restrict access. Generally the route is most accessible in the vicinity of the coastal settlements. Less able users should concentrate on using these sections.

Terrain: Varied surfaces

There are varied surfaces including tar, gravel and earth paths, with some beach and rock sections. In places the trail follows pavements through the towns and villages, whilst in other areas the route uses rough tracks along the coastal clifftops and forests.

Gradient: Generally level

Generally level with some short steep climbs in places.

Barriers: Some barriers

There are steps and gates in some sections, particularly along the rugged coastline at the Hopeman Ridge and between Buckie and Cullen.The route crosses Lossiemouth and Cullen beaches at low tide, but at high tide you will have to follow an alternative (unsigned) foreshore route.The section between Lossie and Kingston has the military firing range and when in use red flags are hoisted at each corner which prevent users from progressing further, for information on which days the range is being used telephone Fort George on 0131 310 8692.

Fully signed
---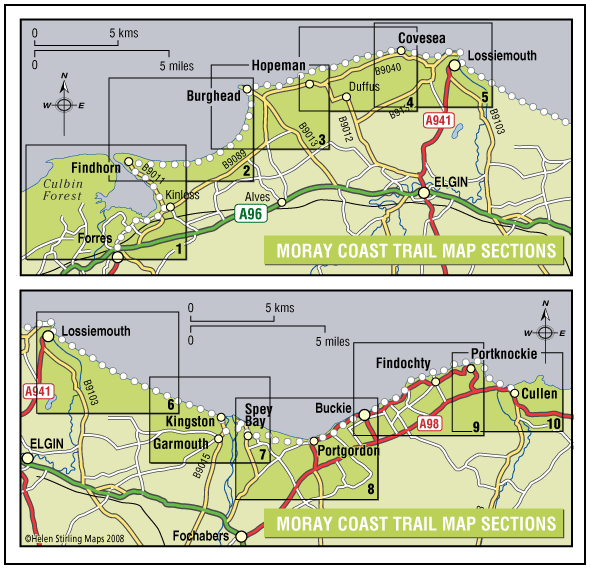 Report a route change

If you have followed this route and noticed any differences please report a route change by sending an email to: 
Download GPX
Download the GPX of this route for use on your GPS enabled device.
---
Gallery
With its marvellous landscapes from rugged cliffs, caves and sheltered coves to fishertown harbours and sweeping stretches of sandy beaches, Moray has a coastline alive with wildlife that would be the envy of many other regions in Britain.
The route has been divided into sections as follows:
The route can be walked comfortably as a whole in around 23 hours, but it is possible to split the trail into convenient sections between the coastal communities.
The Moray Coast has great variety in scenery and setting, and you will always be rewarded wherever you are on the path with great views out over the Moray Firth. The coastline has great wilderness quality with imposing cliffs and rare plants, but is never far from civilisation. The path links a number of attractive coastal villages and towns, with quaint harbours and extensive services and accommodation.
Many visitors are drawn by the resident bottlenose dolphin population or by the abundant bird life found along the rugged cliffs. There are some fantastic beaches along the route, where if you are lucky you can indulge in some sun bathing or paddling.
The route abounds with history and this is evident in all of the coastal communities. The fishing heritage of the coastal settlements can be viewed at a number of local museums and the ice houses of Tugnet and Findhorn. Burghead has the remains of a Pictish fort and harbour warehouses designed by Thomas Telford.
Getting to the Route
The route can be reached using the mainline stations at Forres and Elgin. Local buses serve all of the coastal settlements with connections to Elgin, which has the main bus station, with services linking to Aberdeen and Inverness.
Moray can be reached by car using the A96 trunk road linking Aberdeen and Inverness. Each coastal community has free public car parking.
Where to Stay
The coastal communities have an extensive range of guest houses, B&Bs and hotels. There are also caravan sites at Findhorn, Hopeman, Burghead, Lossiemouth, Buckie, Findochty & Cullen.
Further information can be obtained from Visit Scotland and the Tourist Offices at Elgin and Forres.
---
Contact
Moray Council Outdoor Access Manager
---
Contact
 Forestry and Land Scotland – Huntly Office
Tel: 0300 067 6380
Portsoy Road, Huntly AB54 4SH